Our very own, Sam Snyder was able to meet & talk mushrooms with Food Network's Iron Chef, Alex Guarnaschelli at this year's PA Farm Show! Here's the inside scoop on Chef Guarnaschelli's delicious stuffed mushroom recipe & the secret ingredient that sets them apart from any stuffed mushrooms you've ever tasted. YUM!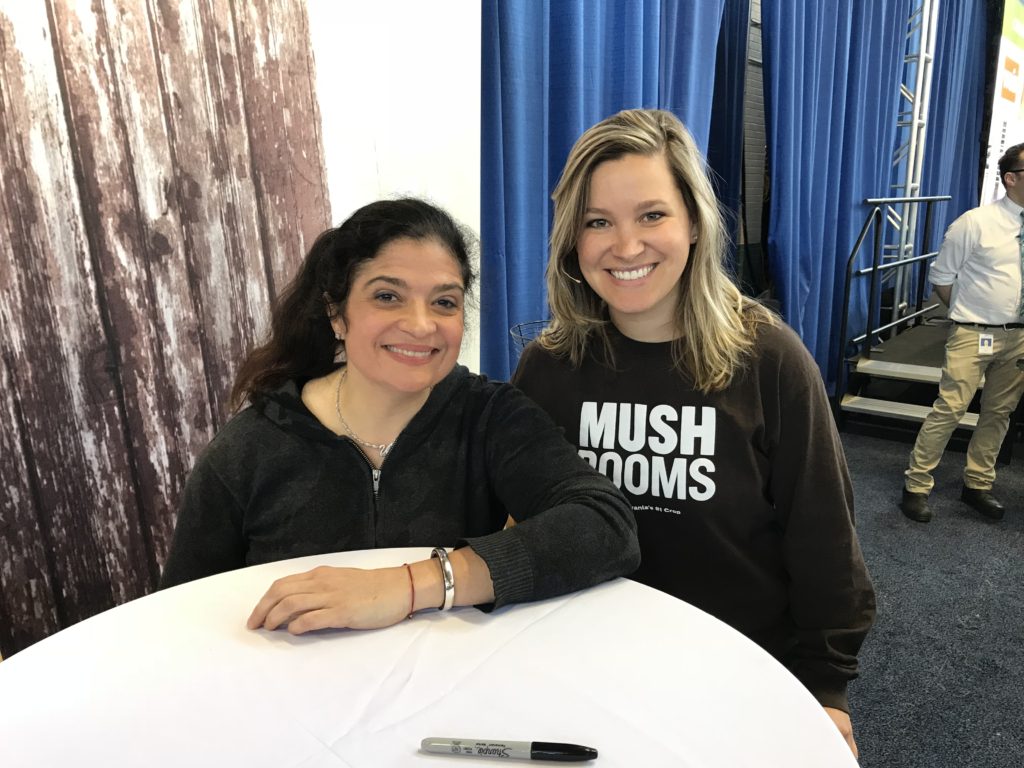 Stuffed white mushrooms:
Alex says: "This is make-ahead heaven to me. I often prepare these mushrooms a day or two in advance and then bake and broil them when we're ready to eat. I learned about the great combination of white mushrooms and dry vermouth (TK). The vermouth intensifies the earthy notes and meaty texture. Adding the sour cream rounds out the picture with richness."
Ingredients:
¼ cup extra virgin olive oil
1 medium yellow onion, minced
2 medium garlic cloves, minced
4 sprigs fresh thyme
Kosher salt and freshly ground white pepper
2 ½ lbs. large white mushrooms, stems on
¾ cup dry vermouth ** the secret ingredient**
½ cup full-fat sour cream
Grated zest and juice of 1 lemon
Leaves from 6 sprigs fresh tarragon, coarsely chopped
2 Tbsp. unsalted butter
½ cup freshly grated Parmigiano-Reggiano cheese
¼ cup panko bread crumbs, toasted
Make the stuffing: Heat a large skillet over medium heat. Add the olive oil, onions, garlic, thyme sprigs, and season with salt and pepper. Cook until the onions are tender, 3-5 minutes. Meanwhile, trim the stems of about ¼ pound of the mushrooms and slice them thinly. Add the sliced mushrooms and cook for 2 to 3 minutes. Add ¼ cup of the vermouth and cook until the mushrooms are tender and a lot of their liquid has evaporated, 8 to 10 minutes. Remove the thyme sprigs. Add the sour cream and allow it to melt over the mushrooms. Then add the lemon zest, half of the lemon juice, and the tarragon. Taste for seasoning and transfer the stuffing to a bowl.
Cook the whole mushrooms: Rinse and wipe out the skillet and return it to medium heat. Add the butter and all of the remaining mushrooms, and season with salt and pepper. Add the remaining ½ cup vermouth and cook until the mushrooms are tender, 10 to 12 minutes. Taste for seasoning. Transfer the mushrooms to a baking sheet to cool.
Preheat the oven to 350F.
Stuff and bake the mushrooms: Remove the mushroom stems, set the caps aside, and coarsely chop the stems. Toss the chopped stems and ¼ cup of the Parmigiano-Reggiano with the stuffing. Fill each mushroom cap with stuffing, packing it in firmly. Arrange the mushrooms in a single layer on a large baking sheet. Mix the bread crumbs with the remaining ¼ cup Parmigiano-Reggiano and use it to top the mushrooms. Bake in the oven until they are hot inside and lightly browned on top, 5 to 8 minutes. Then run the mushrooms under the broiler for 1 to 2 minutes as a finishing touch. Sprinkle the remaining lemon juice over them and serve immediately.