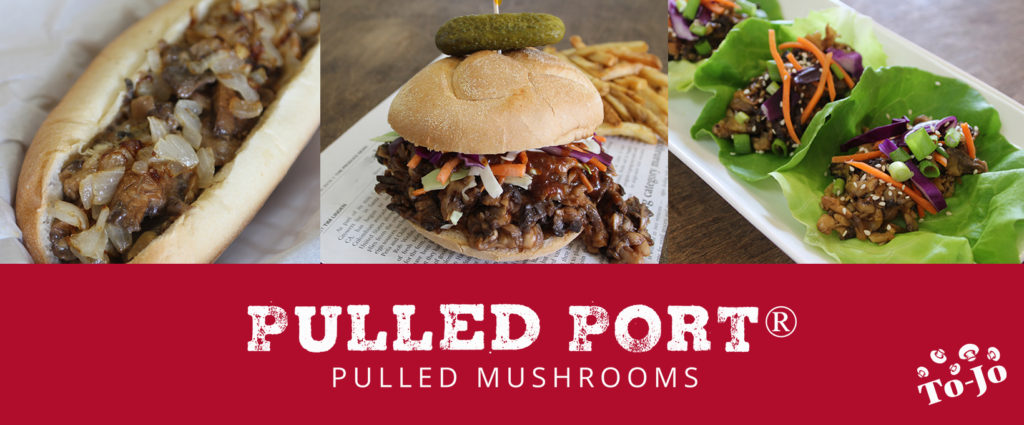 To-Jo Mushrooms, Inc. is proud to announce the launch of Pulled Port® today, the latest addition to their value-added foodservice product line.
To-Jo's Pulled Port® is a mushroom-based meatless alternative that meets the ever-increasing demand for vegetarian dining options in the foodservice space. It was created through an innovative production process which produces a tender, flavorful, pulled mushroom product that looks, cooks, and satisfies just like meat.
To-Jo's new product reimagines mushrooms by combining both portabella and white mushrooms into a fully prepared, tasty, meatless item that will be available in a variety of flavor profiles including Original, BBQ, Carnitas and Philly. The product will be packed in high barrier pouches with an extended refrigerated shelf life offering operators a convenient, sustainable menu option that has incredible hold time for any back of the house foodservice kitchen or institutional dining environment.
Pulled Port's® unique texture and appearance is unlike anything currently available in the market today. It can be served as the star of the plate, used as a topping in a sandwich build, or blended in with your favorite protein item to create healthier menu favorites. Think pulled pork or a philly cheesesteak without the calories and fat, but all of the flavor.
"The collaboration that took place between Marketing, Sales, QA and Operations was incredible throughout the development process.  We really took our time on this project to give ourselves the best chance at success, and so far, the product feedback has exceeded our expectations." Said Tony D'Amico President To-Jo Mushrooms
"At To-Jo, we love offering our customers products that have versatility. Pulled Port allows chefs to enhance how they already use mushrooms by giving classic dishes a more unique twist." Said Tony D'Amico, President To-Jo Mushrooms. "With the rising demand for vegetarian and plant-based options, we are excited that this product gives us the opportunity to engage with chefs in this emerging category."
The product launch will be supported by a new landing page on To-Jo.com and through a variety of product application videos on To-Jo's #kitchenliveseries social media platform. The new videos will feature product handling instructions, portioning information, and recipes such as BBQ Pulled Port® Sliders, Pulled Port® Bahn Mi and Pulled Port® Cheesesteak will be readily available.
For more information on the product visit the Pulled Port® Page