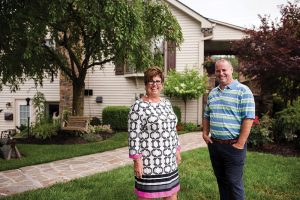 Here at To-Jo Mushrooms, Tony and Joe are proud to announce that their mother Louise D'Amico is the 2016 Mushroom Festival Honorary Chair. Louise has been in many different roles on the festival committee, including the original "FUN GUS" mushroom festival mascot. When asked about her experience as "FUN GUS" she said she enjoyed the hugs from kids but not the attempts to knock her over. Her favorite memory from the first ever mushroom festival 31 years ago was the introduction of the fried mushrooms. Fried Mushrooms are a great snack and have gotten so popular that the Mushroom Festival is now home to the National Fried Mushroom Eating Championship. Louise will not be competing this year but believes she could polish off a dozen in one sitting. The overall champion has 8 minutes to consume as many mushrooms as possible in order to win the $1,000 prize as well as bragging rights.
Louise enjoys cooking and travel; her favorite dish to prepare for friends and family is Italian wedding soup. When asked what travel destination she'd most like to visit she said Greece. She also enjoys musicals and music of all kinds. Laura Phelps, a close friend of hers told us that the theme song for Louise's life would be a mix of "Happy" by Pharrell and "Crazy" by Patsy Cline.
We talked to Louise about what she values most in life and she told us family. She cherishes her relationships with her children and grandchildren and the time she spends with them.
The 2016 Mushroom Festival is in the Mushroom Capitol of the World, Kennett Square PA. It takes place on September 10th and 11th. The festival stretches a mile and features culinary events, growers exhibits, children's rides and vendors. Come check it out and enjoy some tasty mushrooms in the heart of mushroom country.